Start and Run a DOCARE University Chapter
Did you know that about two in every entering three medical students aims to study, work, or volunteer in clinics abroad during their medical school years? In the end, just one in three actually travel. DOCARE can help students be part of the one half of travel hopefuls who get to add international experience to their medical education.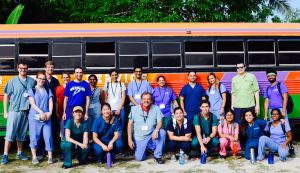 DOCARE International is a nonprofit with a six-decade history of connecting osteopathic physicians, residents, and students to global health outreach work. From our beginnings in rural Mexico in 1961, we've grown into a multi-faceted program with clinical partnerships at four clinics in three countries; a year-round clinical rotation program to Kenya, Guatemala, and Nicaragua; and 15 to 20 short-term trips with over 450 volunteers and over 18,000 patients served worldwide per year.
We couldn't have as much positive impact without our university chapters. Of course, part of our mission to help osteopathic medical students participate in opportunities beyond the US border—but also, the contributions of students help support our continuity of care clinics year-round, ensuring that DOCARE can help provide primary care to three rural communities in Central America and form a base for ensuring visiting short-term volunteer groups make a positive impact.
University chapters contribute to the personal and professional development of the students who participate on campus, too. DOCARE members can participate with a group passionate about helping people in low-income communities, learning about global health, and supporting student participation in global health activities.
We are grateful and proud that many colleges of osteopathic medicine in the United States have a DOCARE university chapter, and we invite all COMs to join. Find out more at the links below.